Gerald Durbin
Dr. Durbin grew up in, Southern Indiana. After completing high school, he attended several universities and has a Doctorate in Management in addition to degrees in Business Administration, Nuclear Physics, and Industrial Design.
Gerald spent 25 years in the US Navy and retired as a Commander. He has been a computer and management consultant and in March of 1999 he retired from consulting to pursue his art career.
Gerald has studied under Jan Keck in Kansas City, the Contemporary Realist Academy in Memphis, TN and Billy Kirk of Boonville, MS. In addition, he has studied pottery with Keith Carpenter of Bean's Ferry Pottery and at The International Institute of Pottery in Orlando, FL. He studied sculpture under Dick Richy (world-recognized for kinetic sculptures). He has recently studied with several master blacksmiths - George Dixon, Brian Brazeal, and Lyle Wynn. Gerald belongs to the Mississippi Forge Council and the American Blacksmith Artist Association.
His paintings are based on "old master" realistic techniques using layers of thin wash paint to achieve depth of structure. Each painting can take between 40 to over 100 hours to complete. Gerald works with oils, water color, acrylic, ink and pencil. In addition to painting, he is an accomplished wood carver and metal smith.
Gerald and Phyllis reside near Cherry Creek, MS in a contemporary house and studio they built, where they pursue opportunities in pottery, painting, wood and metal sculpture.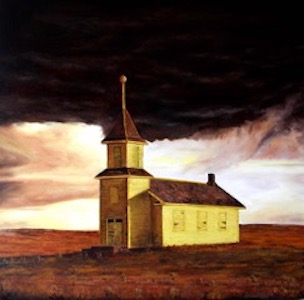 Prairie Church
Framed 27.25 x 27.25 oil and acrylic $1120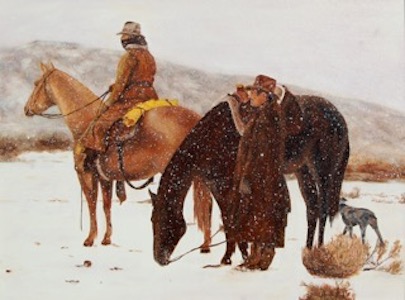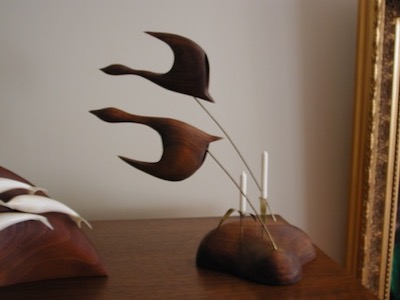 Canadian Geese Sculpture
Mixed Media Sculpture $280